Current

8/2/2023


"He... saw that matter is a mirror — everything is a mirror that reflects light and creates images of that light — and the world of illusion, the Dream, is just like smoke which doesn't allow us to see what we really are."


- The four agreements: a practical guide to personal freedom, Don Miguel Ruiz.


---

6/15/2023


---
Aquí y Allá
(Exhibition closed)
Presented by Presa House Gallery at Presa House Gallery, San Antonio TX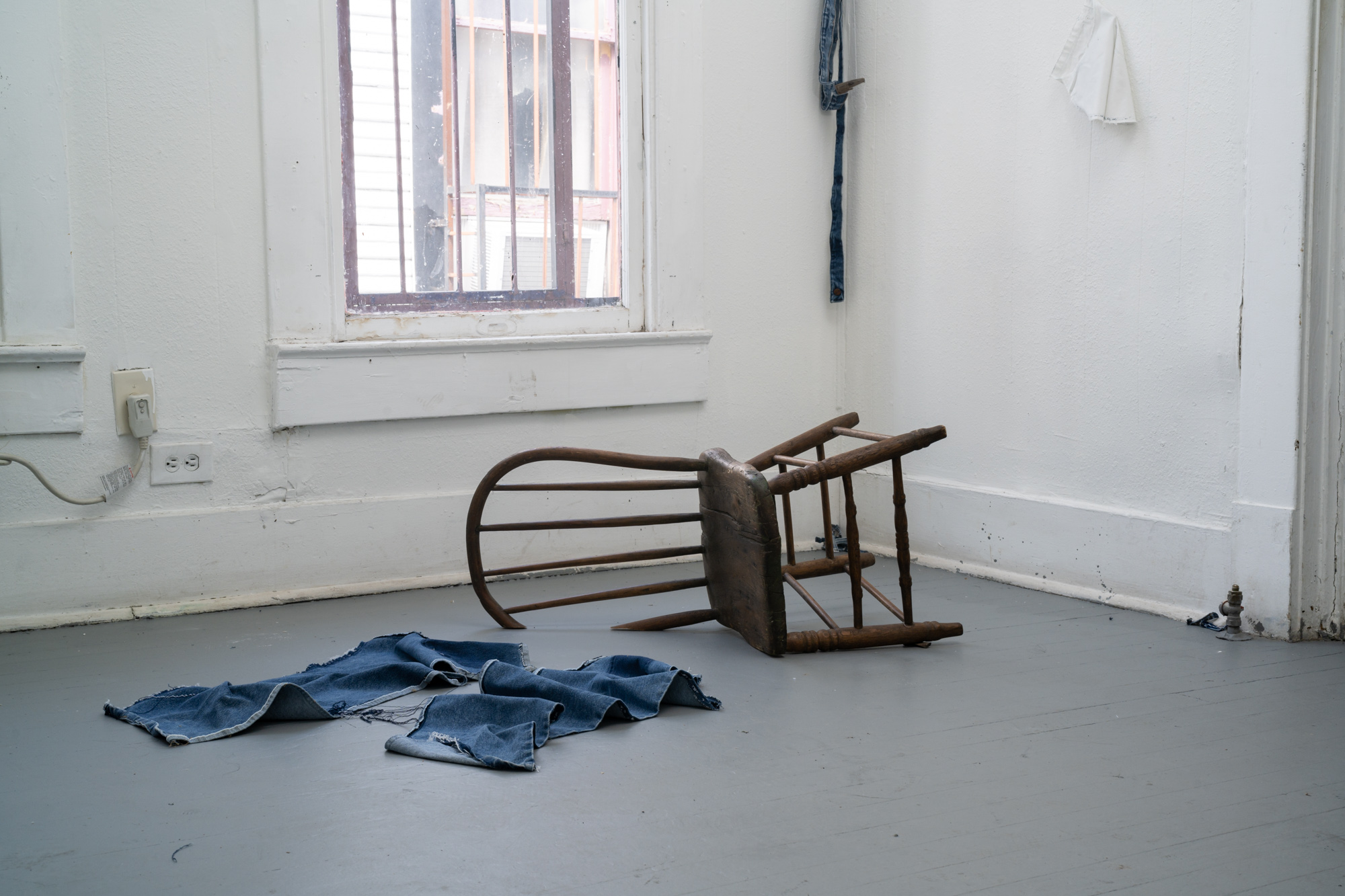 The work I displayed in this exhibition came from my investigation into the U.S.-Mexico Borderlands as a site of exploited labor, with an emphasis on gendered workplace discrimination in Mexico. The workplace and all of its baggage always finds a way to enter the home– the site of ordinary life. Some might refer to the home as a sanctuary. However, sanctuary implies that we are running from something which is intending to suppress, capture, or otherwise harm us. Particularly the marginalized. That "something" creeps into the Home via cracks in its structure. Via the psyche.

It was an immense pleasure to show my work in Presa House. Its structure, its location, its people allowed us the space to experiment and be ourselves as artists and I could not be more appreciative. I hope to be back.


---
Picking at Scabs
(Contemporary Art Month Perennial Exhibition 2023)


Opening Wednesday, March 8, 2023, 5:00 PM-7:00 PM


Michael and Noémi Neidorff Art Gallery at Trinity University

Curated by Gil Rocha

Statement from the Curator:

This set of works are a metaphor for hereditary injuries that are passed on through stories, testimonies, tales, objects, and subtle gestures that embrace individual and generational suffering. The work is an approach towards empathy for someone else and questions "can we heal together?". In the search to heal, this group of artists leave a testament of where the wounds began creating the pain before generating the scars. Holding on to a picturesque notion that the mistakes once made will never be repeated. Each artist offers beauty and indifference from race to the abuse of power, while emphasizing multiple sacrifices taken individually towards change, often at the cost of accepting the pain within themselves.

Artists Included in the Exhibition:

Juan Carlos Escobedo, Anthony Francis, Melissa Gamez-Herrera, Violeta Garza, Pedro Morales, Theresa Newsome, Erika Ordoñez, Anthony Rundblade, Alán Serna, and Gary Sweeney


---
Aquí y Allá

(Nuestra Collective show)
Presented by Presa House Gallery at Presa House Gallery, San Antonio TX
Opening Saturday, March 4, from 7 to 11 PM. On view until April 15th.


Opening Saturday, March 4, from 7 to 11 PM, Presa House Gallery hosts Nuestra Artist Collective. The Collective was founded in 2021 by Dallas-based artists Tina Medina, Karla García, and Eliana Miranda. Their mission is to support and create platforms that empower the voices of Xicana and Latina artists. Their inaugural curation, Fronteriza, was exhibited in October 2022 at Oak Cliff Cultural Center in Dallas.

The nine participating artists include Michelle Cortez Gonzales, Melissa Gámez-Herrera, Karla García, Sara Herrera, Tina Medina, Analise Minjarez, Eliana Miranda, Tesa Morin, and Lupita Murillo Tinnen. Each artist brings a different perspective from uniquely personal experiences depicted in various media and techniques, including ceramics, fibers, textiles, painting, drawing, photography, video, and performance.


---
Soy de Tejas - A Statewide Survey of Latinx Art
Presented by City of San Antonio Department of Arts & Culture at Centro de Artes, San Antonio TX
Opening February 9, 2023. On view through July 9th, 2023



Soy de Tejas presents the works of forty native Texan and Texas-based contemporary artists who reflect the diverse and beautiful complexity of Latinx identities. Curated by Rigoberto Luna, the more than 100 artworks filling the two-story exhibition forge new connections and explore intersections from a nexus of artists who ambitiously blaze a trail of contemporary artmaking, presenting fresh Latinx perspectives and experiences while amplifying the voices of a segment of Texas' most inspiring established and emerging artists.

"The exhibition is coupled with unprecedented enthusiasm and attention turned to narratives of artists of Latin American descent within the current art world and explores themes ranging from race, class, and gender to migration, mythmaking, displacement, and indigeneity," said Luna. "In contrast, many works center on celebrating joyful customs, culture, and traditions that unite and sustain our communities in the face of a multitude of challenges."

Featured Artists: Cande Aguilar, Francis Almendárez, Fernando Andrade, Violette Bule, Angel Cabrales, Sara Cardona, Christian Cruz, Jenelle Esparza, Christopher Nájera Estrada, Melissa Gamez-Herrera, Karla Michell García, Omar González, Raul de Lara, Ingrid Leyva, Ruben Luna, Alejandro Macias, Chris Marin, Gabo Martinez, Gabriel Martinez, Tina Medina, Juan de Dios Mora, Arely Morales, Francisco Moreno, Patrick McGrath Muñiz, Benjamin Muñoz, Marianna T. Olague, Joe Peña, Jaylen Pigford, Vick Quezada, Stephanie Concepcion Ramirez, Josué Ramírez, Natalia Rocafuerte, Gil Rocha, Eva Marengo Sanchez, Marco Sánchez, Ashley Elaine Thomas, Bella Maria Varela, José Villalobos, Sarah Zapata and Jasmine Zelaya.